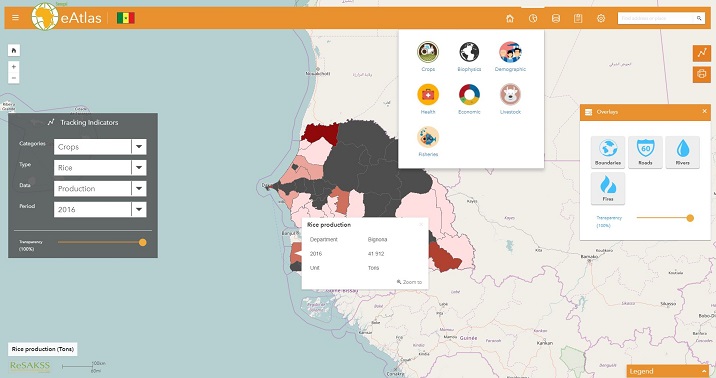 The ReSAKSS Country eAtlases (RCeA), the go-to interactive web-based geographic information system for policymakers, analysts, and other stakeholders in Africa has been given a brand-new look. The RCeA aim is to support evidence-based policy planning implementation, inclusive policy review in Africa by providing an online, highly interactive and dynamic data environment and essential data analysis tools.
To improve the presentation and use of the data available in the RCeA, a new eAtlas site has just been launched with a new design and a clear and rich presentation of qualitative and quantitative data from 23 countries.
Major Highlights:
New interface and design: a completely new interface and design that provides a unique and consistent user experience;
New features: map transparency, possibility of overlapping map layers, visibility of roads, rivers and administrative divisions;
Multiple languages: quick shift to different languages such as French, English and Portuguese;
Printing of maps: possibility to print colorful high quality country maps;
Redesigned Menu: a fresh new look of the menu bar for better navigation.
The new interface of the site gives access to an easier, more pleasant and resolutely more modern use. The new site facilitates navigation and enhances the content and search for data about Cultures Biophysics, Demography, Economy and Health among many other indicators in Africa.